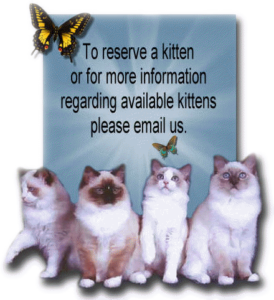 We take the responsibility of raising healthy and well socialized kittens seriously. Our kittens are born in a loving home environment and they are watched over carefully from birth forward.
Fur-Real kittens are altered (spayed/neutered) by 12 weeks of age. The recovery is quick and over with before going to their new homes. Bonding between the kitten and their new family can then be uninterrupted.
For pictures of some of our previous kittens and adults please visit our Tumblr page: http://furrealragdolls.tumblr.com
We may have kittens available other than the ones featured here, please ask at ragdolls@furrealragdolls.com or call us at 415-586-1970.
Check back with us often for Ragdoll kitten availability.